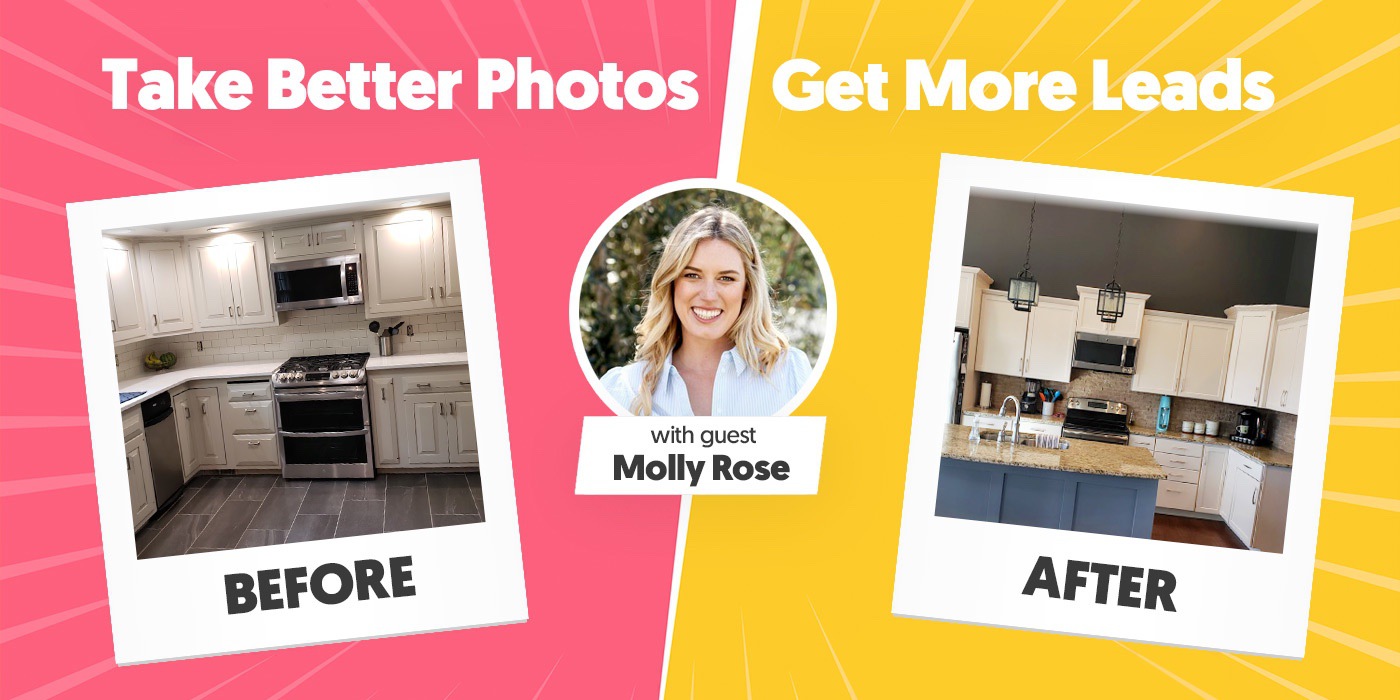 As a professional painting contractor, it's understood that you're not a professional photographer. On the flip side, as a business owner, you're aware of how important wearing multiple hats can be for your painting company.
The professional painting industry is rather unique. You're probably well aware that your services can be conveyed via photos. For instance, the same cannot be said about plumbers or HVAC companies. So just because you can take photos of your work, why should you?
Here we will review the importance of photography for your painter advertising and marketing campaigns. We will provide several tips to help you take better before and after photos of your painting jobs, and we'll even discuss where you can use these images to generate more business and painting leads for your contracting company.
Learn from Molly Rose: A Professional Interior Photographer
I want to give a BIG shoutout to Molly Rose. Molly is a professional interior photographer based out of sunny Los Angeles, California, and has graciously offered to contribute to this post.
Let's jump in!
Why are before and after images so important for your contracting business?
Your work is visual, and our brains were built to process visual information. It's why 90% of the information processed by our brain is visual inputs. Plus, your customers LOVE before and after images. The best part? This powerful marketing material can be created for free using nothing more than your existing smartphone.
Let's start by addressing some common questions…
Why should I take before and after photos of my painting projects?
Two words: Marketing material
Your before and after photos are the best way to visually communicate your craft, and the skills you've worked so hard to refine. Use these images to build trust and breakdown customer hesitation.
Consider this: A potential customer is presented with two painting companies, one with high-resolution images of their work and the other with a verbal or written offer. Which one do you think the customer is more likely to trust? As they say, seeing is believing.
You work hard to refine your skillset. You're a craftsman, or craftswoman. Be proud of what you do. Even if you don't invest in a painter advertising or marketing campaign today, you probably will at some point in the future. So take pictures of your work for the world to see, the marketing agency you hire will thank you later.
How many photos do I need to take?
There is not a set number of photos you should take while on the job site, but the minimum recommended number is probably higher than you think. For instance, the industry's largest painting contractors will take thousands of photos a year. Why? Because they make great marketing material.
Taking 50 images of an empty room you just painted may seem like overkill, right? Wrong. Maybe your thumb was in the way, or perhaps your camera caught a lens flare. The more photos you take of your painting jobs the more likely you are to walk away with workable images that can be used on your future painter marketing campaigns.
Once you walk away from your customer's property it may not be easy to get back onsite to take more photos, so it's important you get it right the first time. Take several photos of your subject from the same location, making small adjustments each time, then move to a different angle.