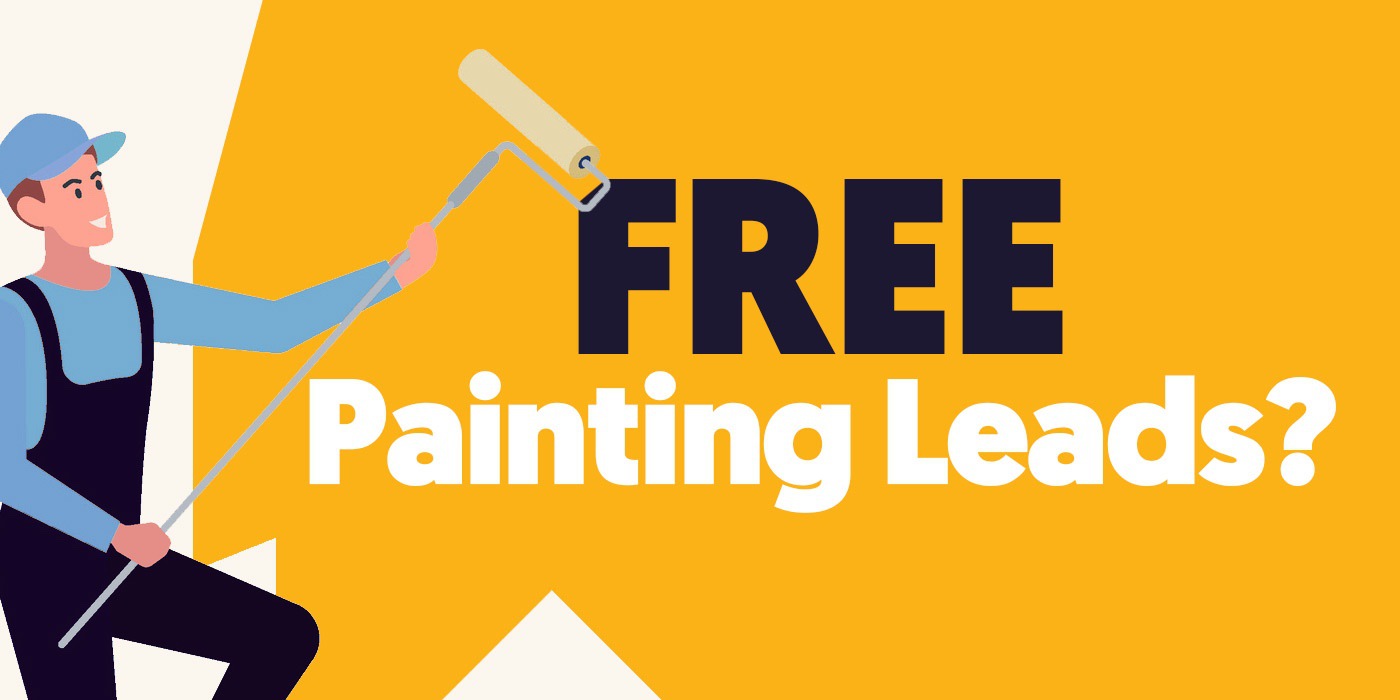 Painting leads are the lifeblood of any painting business. They are the primary way to build revenue and expand clientele. The question that most painting business owners ask is: How can I get free painting leads? 
Here we will review several methods you can implement today to start generating more business, for free.
Let's jump in…
How Painting Companies Get Free Leads
Without a consistent supply of new painting leads, most painting businesses wouldn't be able to grow.
Leads should be your primary focus, especially when first starting out. One closed painting lead can bring you more painting leads through word-of-mouth referrals. It's a vicious cycle that can generate a ton of revenue for your painting business. So where do you start?
Claim Your Google Business Profile
We wrote a detailed article for claiming and optimizing your Google Business Profile for your painting business. Why is this so critical? Two reasons: It's free, and it's the best way to generate new business on Google.
Your Google Business Profile is displayed in two areas: On Google Maps, and in Google Local Search Results in a section called the Map Pack. The latter is a section consisting of the three most popular related local businesses for a given search query. These results are displayed at the top of search results next to a map, hence the name Map Pack.
This profile is made up of only a few components, including your company name, address, phone number, business hours, photos, and customer reviews.
Here are some stats to illustrate the power of a well-optimized Google Business Profile:
44% of local search result clicks go to the Map Pack

One in two customers use search engines on their smartphones daily

Nearly half of all Google searches are for local businesses and information
In other words, securing your painting business in the Local Map Pack results can help you capture more free painting leads long term.
Customer Referrals
We all know that one guy who built a $500k painting business off of word-of-mouth referrals alone. These cases should be considered an exception, not a rule. With that said, referrals from existing customers are still one of the most powerful, free resources your painting company can rely on to generate new business.
The process is simple. Acquire a new customer and produce an exceptional result. For best results consider incentivizing referrals with monetary payouts or future discounts.
Door-to-Door Marketing
While time-consuming, one of the best ways to get more painting leads is by door-to-door marketing. Door-to-door marketing is much more effective than a lawn sign or flyers as you interact with potential customers face to face. Why? Because your customers are more likely to connect with you on a human basis rather than through a poster or flier.
Consider this: On your next slow day find a local high-value neighborhood and see if any homes need work. If you find a house with cracked or peeling paint, provide the owner with a free estimate on the spot. Even if they don't commit now they'll most definitely call you in the future when the time comes to repaint.
Networking
Generally speaking, the internet is a great place to network with potential customers. However, it can get expensive. The painting industry tends to rely heavily on in-person networking to get new leads, and rightfully so. You can spend money on lawn signs and mailers, but nothing beats a face-to-face chat.
Fortunately, most painting companies have several options for in-person networking, from industry events and trade shows to painting organizations and community events. These public gatherings can help your painting business establish a reputation as a local expert, and ultimately earn you more business.
Leverage Social Media
Social media is a great medium for generating free painting leads. This is because social media provides you with a way to personalize your outreach without the effort required for face-to-face meetings.
For example, if you follow your local Facebook Community Group you will often see community members requesting painting referrals. Why? Because word-of-mouth referrals carry more weight than cold outreach. By responding to these requests with a personalized message on social media it is perceived the same as a face-to-face interaction.
Social media is also a great place to showcase your work. Use Instagram to post before and after images of your painting projects and monitor closely. When a lead comes in it's important that you respond quickly (within minutes).
Create a Website
Implement an SEO Strategy
Search Engine Optimization is another powerful marketing strategy your business can leverage to generate free painting leads. SEO involves the strategic use of keywords and phrases throughout the content on your website.
While there are hundreds of factors that determine how well your site ranks organically in search engines, a few critical points include:
Content on the website

Website structure

Site speed

Physical location of your business